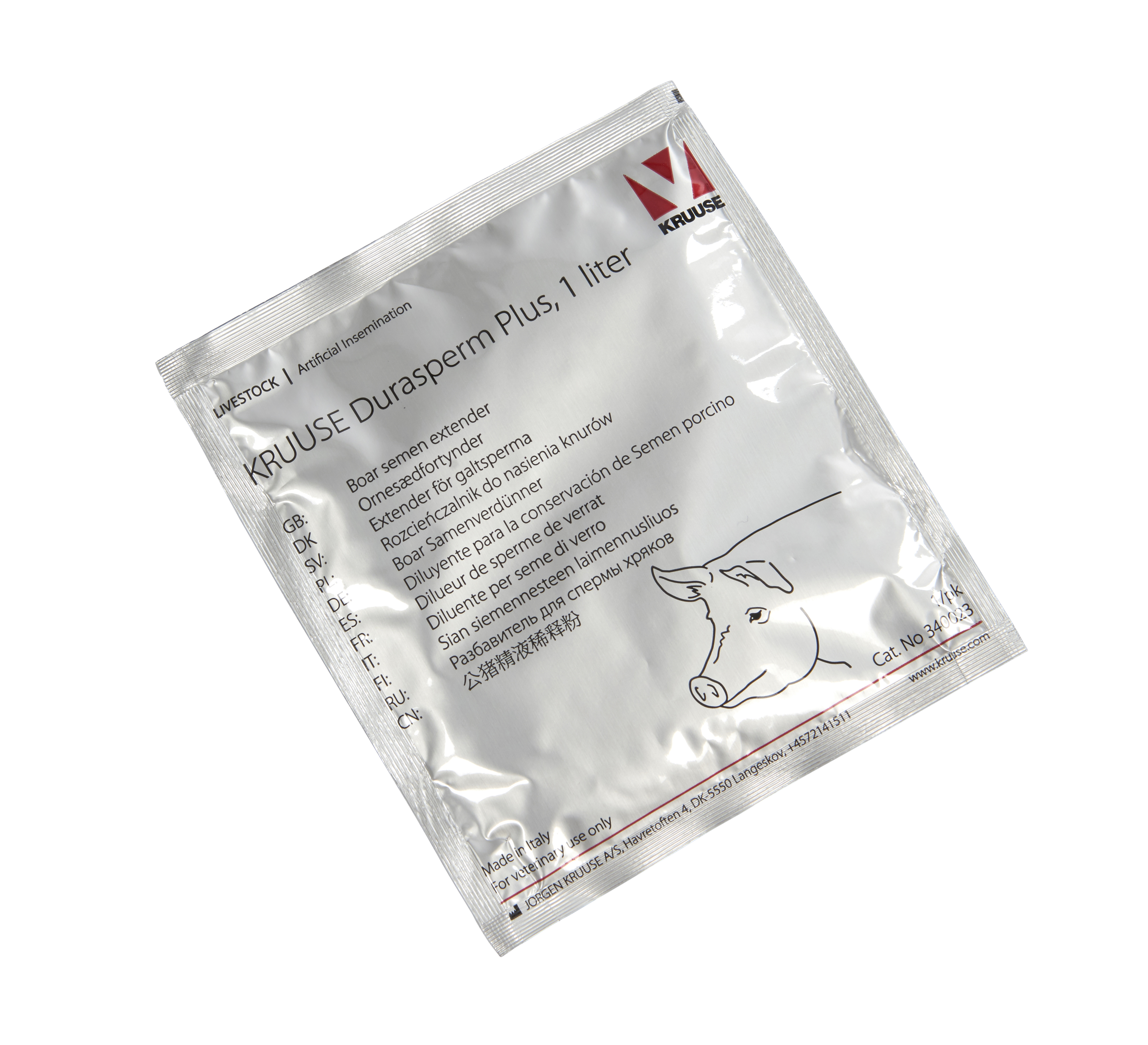 KRUUSE Durasperm Plus boar semen diluent, 1 l pouch
340023
KRUUSE Boar semen extender, mixed with 1 liter of distilled water
Ensures 5-7 days semen conservation
Easy and quick preparation of diluent
Contains gentamycin and marbofloxacin
Medium term extender up to 5-7 days
Break-even point in your artificial insemination program
Controlled energy release
Constant physico-chemical environment over time
Highly efficient antibacterial combination
Practical and user friendly


Storage temperature and storage conditions of the mixed semen extender:
If the extender is diluted in water and not already mixed with the semen, it can be stored in a refrigerator between +2° and +8°C in a closed container.
Once the semen is mixed with the semen extender, the mix needs to be stored at 15-17ºC in a refrigerator.


Normally the extender (to add the sperm) is used within 30-60 minutes after dilution with the water, however, never exceed more than 48 hours.
The properties of the semen extender changes through the time (changes in ph, osmolality, etc.).

After the dilution of the extender with water and waiting the 30 -60 minutes of stabilization, the semen is added to produce the final semen doses.
Hereafter, the semen from the boar is added and the laboratory will produce the semen doses for artificial insemination as per the request of volume and concentration offered to the final customer.

The semen doses must be stored in a refrigerator at 15-17ºC and must be transported to the farm kept within this gap of temperatures. Once the doses arrives to the farm then the personnel will proceed with the process of saw insemination.

| | |
| --- | --- |
| Weight including packaging in kg | 0,05 |
| Barcode | 5703188312150 |