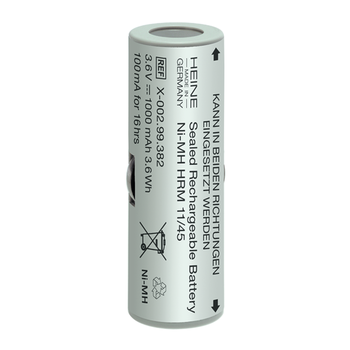 HEINE NiMH genopladeligt batteri, 3,5V
270071
HEINE NIMH rechargeable battery 3,5V. X-002.99.315
The HEINE NiMH rechargeable 3,5V battery is compatible with HEINE BETA NT, TR and R handles as well as HEINE standard F.O., F.O. Angled and BETA laryngoscope handles.
It also replaces the previous X-02.99.382 NiMH battery.
Existing handles with battery X-002.99.382 or X-002.99.315 can be upgraded with li-ion battery X-007.99.381 with higher capacity, usage time per charge and significantly longer expected life-time.
Upgrade to X-007.99.381 battery will work with existing charger and instrument heads.
| | |
| --- | --- |
| Weight including packaging in kg | 0,10 |
| Barcode | 270071 |