BUSTER Ear Cover
The soft and comfortable BUSTER Ear Cover provides both post-surgical and general head and ear protection. It can be used as protection in case of aural haematoma, cuts or tears and chronic itching or scratching.
The BUSTER Ear Cover is provided with strong, yet soft neoprene on the forehead with integrated flexible plastic spines for optimal fit.
An extra hole can be cut in the easy-to-cut non-fraying fabric in order to leave out the healthy ear flap.
The BUSTER Ear Cover is suitable for both cats and dogs.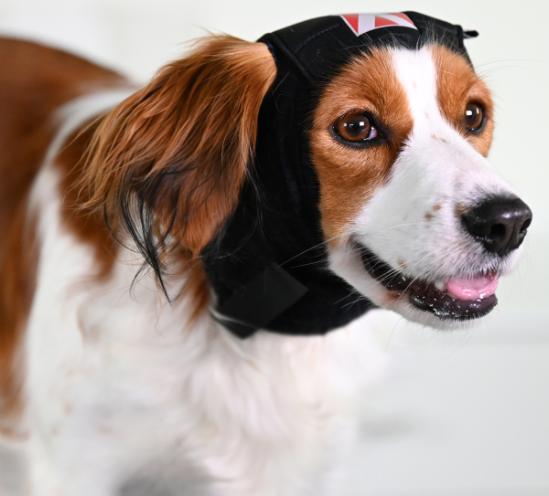 Features and Benefits
Freedom of movement
Easy fitting and removal
Flexible and extremely breathable
Straps for secure fastening to the dog's neck collar
Soft and durable Neoprene
Machine-washable
Available in 6 sizes and a starter pack
BUSTER Ear Cover is perfect for
Recovery from aural haematoma
Cuts or tears
Chronic itching or scratching
Bandage protection
Wound care

Are certain breeds at greater risk for dog ear haematomas?
Dogs with ears that hang down are at a greater risk for haematomas.
When they shake their heads, the ears go along for the ride, which can cause trauma
Here are a few of the droopy-eared breeds prone to the condition
• Labrador
• Golden retriever
• Dalmatian
• Cocker and Springer Spaniel
• Beagle
• Basset hound
• Coonhound
• Bloodhound
• Afghan hound
• Poodle
• Setter
• Dachshund

Dogs who have frequent ear infections or other chronic ear problems are also at higher risk, but any dog can develop a haematoma.
Ear mites, which can cause a haematoma, can happen to dogs and cats of any age.