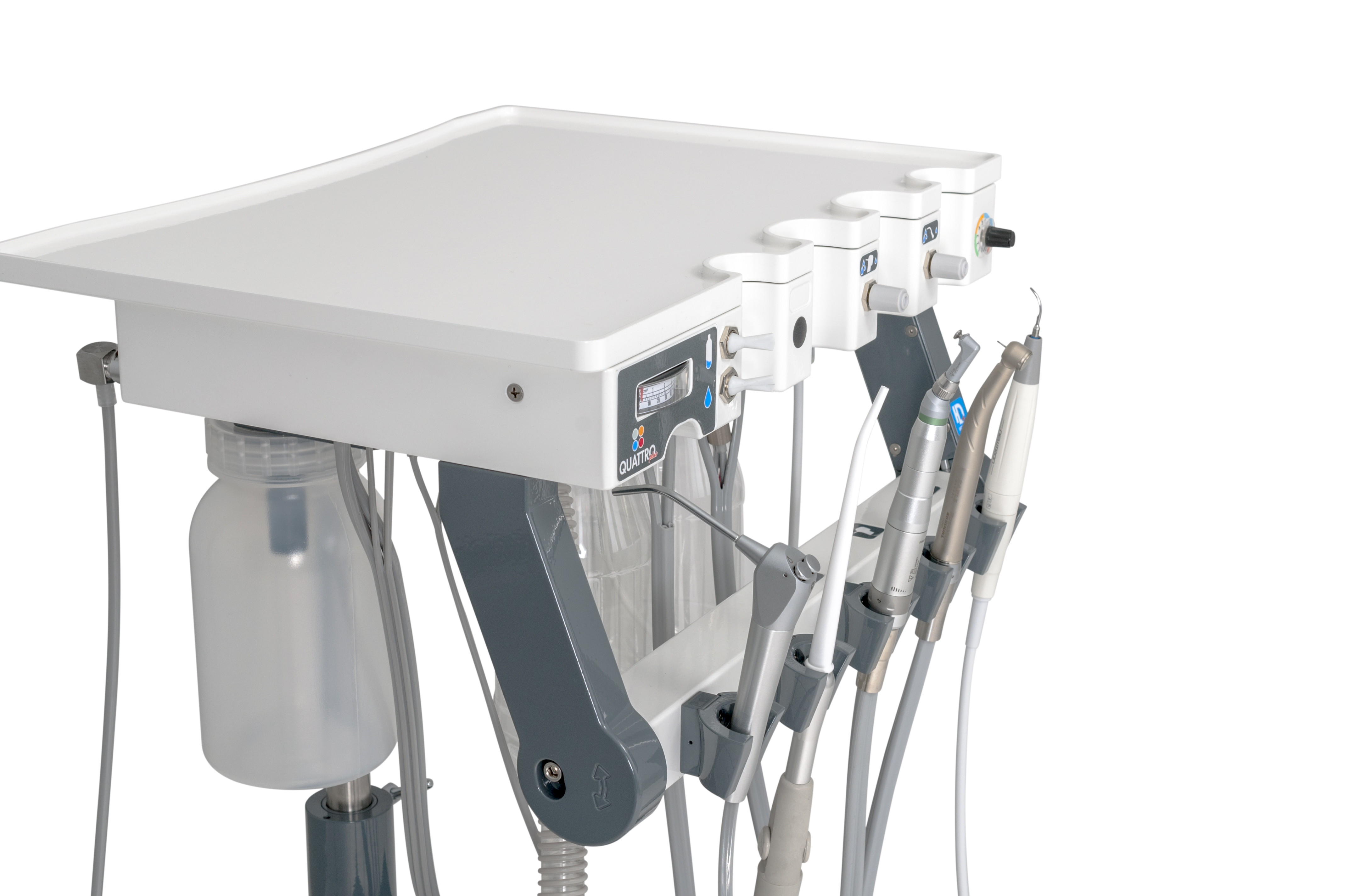 KRUUSE Quattro Plus Dental unit, wall mounted, scaler, w/o compressor, 230 V
282842
The Quattro Plus is the most complete veterinary dental system with ergonomic features.
The new and easy to clean shelf give you more space for your instruments
Height and handpiece console are adjustable
Clear indication of handpieces
Detachable suction hose for easier cleaning
Low risk of breakage and reduced risk of injury due to its recessed handpieces
Low risk of leaks due to its innovative piping system configuration
Automatic handpiece selection eliminates the risk of error
Full 5-year warranty on the unit, excluding handpieces
Highdent™ dental machines include a muffler to reduce noise from the handpieces
Water and airflow adjustments for individual handpieces offer better control
Available in 110 or 220 volts
When designing this unit, the primary goal was to help the veterinarian perform his work quicker, easier and without fatigue.
​Depending on the veterinarian's preferences, you can adjust the angle of the handpiece console. This feature allows you to place the handpieces at the perfect angle to create the smoothest body movement.
The large shelf offers space to put the different tools needed for the procedure in one place. The rounded edge of the shelf prevents your instruments from falling off. Since there are no joints, seals or visible screws, it is very easy to clean. The suction hose is flexible and light to prevent any tension on the user's wrist. In addition, the hose is detachable for easier cleaning.

Included with the Highdent™ Quattro Plus
Suction
Air/Water Syringe
Piezo Scaler
Instrument shelf
No.1 universal scaling Piezo tip
No.2 voluminous calculus scaling Piezo tip
No.10P shallow pockets scaling Piezo tip
| | |
| --- | --- |
| Weight including packaging in kg | 0,00 |
| Barcode | 282842 |