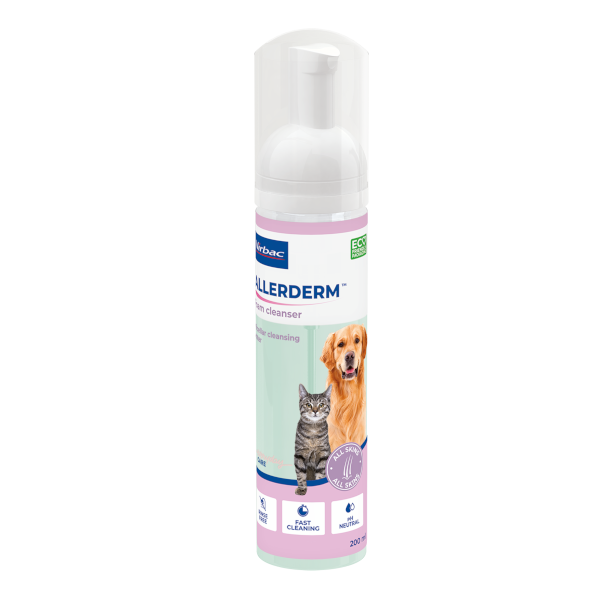 Virbac Allerderm Foam tørshampoo, 200 ml
275698
Gentle leave-in dry shampoo in foam form.
Formulated for deep cleansing of impure skin.
For washing the fur between bathing times, as a quick alternative to Virbac dog shampoo or for spot washing for quick and focused action around problem areas, such as paws, legs and skin folds.
Virbac Allerderm Foam dry shampoo for dogs and cats penetrates deep into the fur to remove dirt and fight impurities in the skin.
The result is a refreshed coat and cleansed skin in just a few minutes.
The foam-based dry shampoo for dogs and cats combines all the advantages of shampoo for deep cleaning and shampoo for general washing in one effective solution.
Virbac Allerderm Foam was developed by Virbac's veterinarians for optimal effect with a focus on the pet's health. Virbac's Foam formula is 100% biodegradable and gives your pet a fresh, shiny appearance with rich volume without the use of parabens or sulfates.
Experience gentle cleansing without the use of harsh chemicals with Micellar Water, which removes impurities from the skin without affecting the beneficial fats. Micellar Water's surface-active substance effectively captures dirt and grease so that it can be easily wiped off.
Allerderm™ Foam is tough on dirt, but gentle on the skin with a proven effect and high tolerance on all skin types. The neutral pH value and built-in formulation support the skin's natural balance.
The dry shampoo's glycotechnology minimizes binding of microorganisms, while the defensin technology stimulates the skin's microbial defenses and supports the immunological skin barrier.
| | |
| --- | --- |
| Weight including packaging in kg | 0,23 |
| Barcode | 3597133092271 |