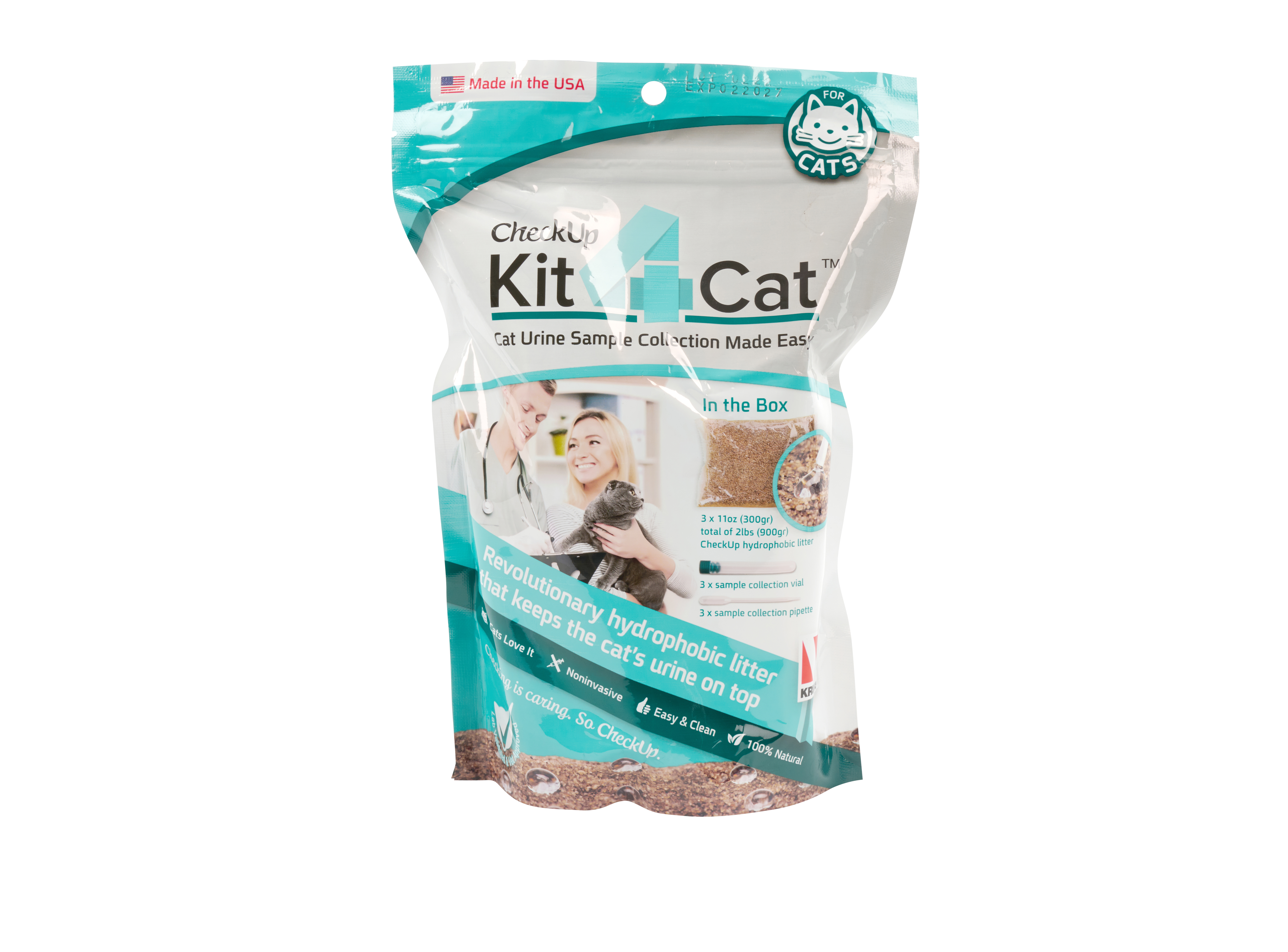 Kit4Cat, seal sand, 3 x 300 g
275011
Kit4Cat is revolutionary biodegradable hydrophobic sand that has a natural non-toxic urine repelling coating.
It allows veterinarians, technicians, and cat owners to quickly and easily collect a cat's urine sample,without resorting to invasive procedures such as Cystocentesis.
The cat's urine will stay on top, allowing you to collect the urine using the pipette and vial that are included in every bag.
How to use Kit4Cat:
Kit4Cat sand is easy to use, and is very effective for collecting a cat's urine sample.

Anyone can use it either at home or in a veterinary clinic, with excellent results. Please follow the instructions below.

Cut open the bag of Kit4Cat sand, and pour the contents of the entire bag into a clean litter box. Spread the Kit4Cat sand so that a small layer covers most of the litter box. Each bag ofKit4Cat sand includes a smaller bag with a pipette and a vial; please remove these and put them aside for collecting the urine sample later

Place the litter box in a place that is accessible to the cat, and letthe cat freely urinate on top of, or next to, the Kit4Cat sand.
NOTE: If you have more than one cat please make sure that only the cat that you need checked has access to the litter box

Once the cat has finished urinating, and has moved away from the litter box, use the included pipette to collect the urine, and then place it into the included vial.

NOTE: If the urine drops are small, use the pipette to push the drop together to form a larger drop

NOTE: If the urine "disappears", so that it is under the Kit4Cat sand, simply move a little of the sand aside to uncover the "hidden" urine

DO NOT mix Kit4Cat with conventional cat litter

The contents of 1 of the 3 bags is enough to collect a sample, and is for 1 time use. An opened bag needs to be used within 72 hours.

Do not reuse Kit4Cat
| | |
| --- | --- |
| Weight including packaging in kg | 0,95 |
| Barcode | 5703188269652 |