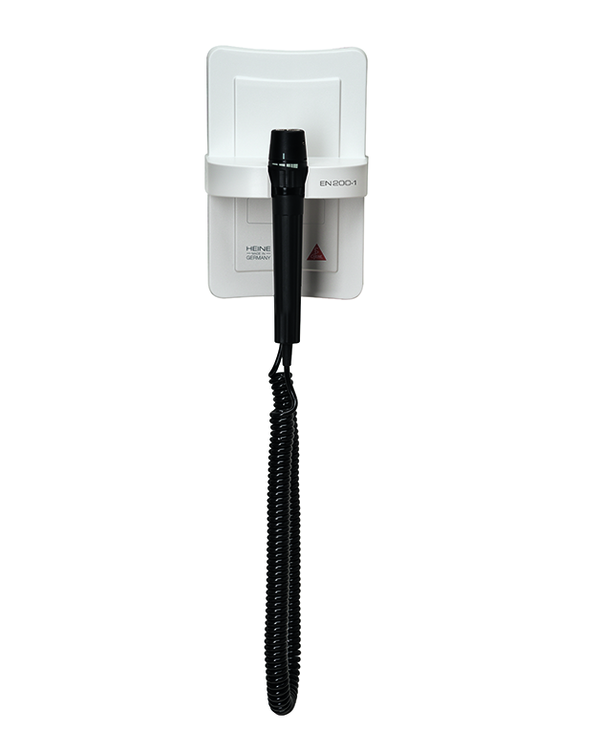 HEINE EN200-1 Extension unit [X-095.12.251]
293160
HEINE EN200-1 Extension unit delivered complete with mounting material. It connects to an existing EN 200 Wall transformer, extending it with a third handle. The system is designed for everyday use in hospitals and clinics.
The handles have a 3,5 meter working radius and the integrated galvanic separation technology provides safe use with all HEINE 3,5V XHL or LEDHQ instrument heads.

The brightness in XHL as well as LEDHQ instrument heads can be continuously adjusted between 100 % and 3 % with one-finger operation. The integrated anti-theft system can be used to prevent unauthorized instrument head removal.

Ready-to-use Function: Due to cutting-edge technology in the HEINE EN 200 the handle switches on and off automatically when taken off or returned to the unit. Set your brightness level once and it stays there every time you use your instrument. When not in use or when not returned to the unit, the illumination switches off after 15 minutes.

Optimal cleaning. Flat, space-saving housing without any openings allows optimal hygienic reprocessing. The absence of a mechanical switch reduces the risk of cross-contamination.
| | |
| --- | --- |
| Weight including packaging in kg | 0,00 |